Managed 10 books this month, still behind in my goal for the year, but only 2 books so easy to get caught up. Could read a bunch of children's books lol
Frankenstein
by
Mary Shelley
My rating:
2 of 5 stars
hmmm its Frankenstein, the story well known enough it shouldn't need an explanation. People really scared easily when this was written lol This is actually a pretty boring story about not playing god basically. Too much whoa is me for me to really enjoy it.
The Girl Who Saved the King of Sweden
by
Jonas Jonasson
My rating:
4 of 5 stars
While this book is full of characters and events that are just as improbable as his first book, I enjoyed this story a lot more. I found the characters likeable, a little daft and funny. The characters are written better when together as a group, the story slows down when the characters are only in pairs. The story seems to flow better when the characters are in one group, there is more conflict and funny events that help move the story along. Well the story is centred on one main character, I think the people around her are much more interesting to read.
Deathless
by
Catherynne M. Valente
My rating:
4 of 5 stars
I really enjoyed this book and would have given it 5 stars but it really slowed down near the end of the story, and I had to push myself to finish it. I went in reading this book, only having a vague idea what it was about, and I think that was a good thing. Made the story more of a mystery. I do want to do some more research now on Russian folklore since what was in this story I loved reading :)

Cinder
by
Marissa Meyer
My rating:
2 of 5 stars
Entertaining take on the Cinderella story, but so predictable that buy I think page 40 I knew what the "big" twist was :/

Scarlet
by
Marissa Meyer
My rating:
3 of 5 stars
I enjoyed this book a lot more then the first one, it was less predictable then the first. The story seemed to flow better and I thought the characters were more likeable , even the bad gay/good guy I found likeable, (confusing if you haven't read it I know, but I don't want to write a spoiler). I have no idea why, but I really don't like Cinder as a character, much prefer the other characters, which is why I enjoyed this book more than the first.
I am really liking the combo of fairy tales and sci-fi, but wish there was more world building. I want to know more about how this world came to be and more about Luna. You are given some descriptions of Earth and Luna but I don't feel that it is enough to really get a good picture in your mind of how the places look and work.
On to the next book,....

Cress
by
Marissa Meyer
My rating:
3 of 5 stars
Once again, I was more interested in the other characters in the story, rather the Cinder. I didn't find this one predictable, was pretty enjoyable. Sometimes you just want to read a pointless book where you don't have to think when reading it lol
Locke & Key, Vol. 1: Welcome to Lovecraft
by
Joe Hill
My rating:
4 of 5 stars
Will write a review once I finish the series, but love the idea of keys that that open doors that can change people in many different ways
Head Games
by
Joe Hill
My rating:
3 of 5 stars
Locke & Key, Vol. 3: Crown of Shadows
by
Joe Hill
My rating:
3 of 5 stars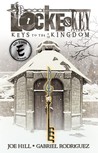 Locke & Key, Vol. 4: Keys to the Kingdom
by
Joe Hill
My rating:
4 of 5 stars
View all my reviews