6 books finished in January, so already behind in my reading goal, but figure I can get caught up in the summer :)
Mistborn: The Final Empire
by
Brandon Sanderson
My rating:
4 of 5 stars
I really liked this book, fast paced and very interesting. Really like the explanations of what all the different metals in the story do and how people can use them. I thought the world building was well done and the main characters were well written and likeable. Predictable ending, but really didn't expect anything different when the whole story was about trying to kill a very bad man.

The Well of Ascension
by
Brandon Sanderson
My rating:
3 of 5 stars
The first half of this book I found boring and almost stopped reading but I decided what the hell, keep reading. Glad I did, the pace of the story picked up, and I felt like an idiot when it was revealed who the spy was, didn't even enter my mind it was that person :p Onto the next since I do like the author's writing style, just wish the book wasn't so boring and choppy in the beginning.
The Hero of Ages
by
Brandon Sanderson
My rating:
3 of 5 stars
Much better then the last one, so 3.5 really. Kept up the fast pace for most of the book right until the end. Could have maybe been a bit shorter, didn't need probably a third of what was written. The author is really wordy isn't he? :p
Paper Mache Dragons: Making Dragons & Trophies Using Paper & Cloth Mache
by
Dan Reeder
My rating:
4 of 5 stars
Video review :)
http://youtu.be/LST5MQArNQo?list=UULf...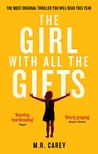 The Girl with All the Gifts
by
M.R. Carey
My rating:
3 of 5 stars
Entertaining read, nothing new in the undead genre, but liked how the author ended the story. Bleak but not a complete end to the world.
Painting Canada: Tom Thomson and the Group of Seven
by
Ian A.C. Dejardin
My rating:
3 of 5 stars
Gorgeous painting reproductions, a bit more info would have been nice tho.