4 books for today, and yes most of them were full of pictures but still counting them since I had to look threw them for Uni :p
Graphis Poster Annual 2015
by
B Martin Pedersen
My rating:
4 of 5 stars
great colour reproductions of some really interesting posters.
Graphis New Talent
by
Graphis
My rating:
4 of 5 stars
Read the 2015 edition but its not on Goodreads. Really nice seeing what has been produced recently and what is currently trending. Great colour reproductions.
Mid-Century Ads: Advertising from the Mad Men Era
by
Jim Heimann
My rating:
3 of 5 stars
Another great reference for ads from that era. Interesting to see actually how things have changed but how so much hasn't :p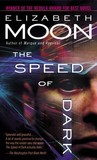 The Speed of Dark
by
Elizabeth Moon
My rating:
3 of 5 stars
I don't know any one that would be on the Autism spectrum, so couldn't say how accurate the portrayal of autistic characters is but I found the characters likable. well, I liked the "good" characters, the "bad" guys were ok if not a little predictable. Not too keen about the ending, everything seemed to be a little too easy and happy ever after.

Jennifer
has read 86 books toward her goal of 90 books.